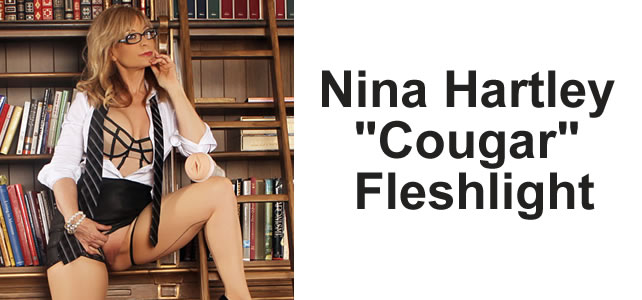 Nina Hartley Fleshlight Discount Link
I don't know. There's something about cougars that turns me on. Something about their experience, maturity and sexiness that just does it for me. And believe me, MILFs and Cougars are often on the prowl for younger guys to fuck. So I was really excited to hear that they've just come out with a Nina Hartley Fleshlight. Big turn on.
Nina Hartley is a veteran porn star, who's probably been in thousands of porn videos and had sex with countless guys. Nowadays she's regarded as a MILF and cougar, since many younger guys would love to fuck her, and she has done quite a few videos fucking younger guys.
So basically she has become a cougar of note. And it is time that she spreads the love a bit wider. Enter the Fleshlight version of her vagina.
You now you get the chance to fuck her pussy with the Nina Hartley Fleshlight. Here were cum.
Nina Hartley's Own Pussy
This is what the orifice of Nina's vagina looks like:
Looks wide and open for business. Like Nina herself. I love the way that Nina Hartley's famously large lips are spread wide open, very tempting I must say. The color is a light pink, and the surrounds are like your regular Fleshlights. And you see that little whole of pleasure waiting for your dick to slide into it.
Nina Hartley Fleshlight Cougar Texture

This is quite a complicated texture that goes well with the experience and complexity you would experience if you were fucking a cougar. See how the outer walls are unevenly spaced and unevenly textured, meaning that you won't experience the uniformity of some of the Fleshlight textures. Then the middle section contains these smooth oval like discs which rub against your hard cock, which is intensely pleasurable.  It will take some stamina not to cum quickly with this kind of texture, as it feels like nothing you would have experienced before not matter how many women you've had sex with.
Nina Hartley Fleshlight Discount Link