Think of Fleshlight Mounts as hands-free kits. You like pumping away at the Fleshlight but you don't feel like using your hands. Think of it another way – you want to recreate the experience of the 'real thing', i.e. sex with a women in various kinky positions, and besides it feeling real, you want the positions and movements to be real and natural as well.
The Fleshlight mounts have been ergonomically designed to achieve this sense of natural movement. When the Fleshlight mounts first came out a few years back, they were not optimally designed, and people (including myself) had problems getting into the 'perfect' and most natural feeling and angle. So they tweaked the designs quite a bit, and the results are significantly better simply because the whole experience feels a lot more natural because the angle and height is more in tune with your body.
There are four types of Fleshlight Hands Free Mounts to choose from, depending on what you are looking for. As usual, the makers of the product are trying to give you as many options as possible to suit your specific needs.
Top Dog Fleshlight Mount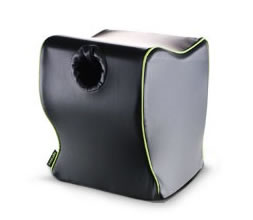 Many men love doggy-style because it allows for maximum penetration and smooth in and out movement. The Top Dog Fleshlight Mount recreates the effect of doggy-style action.
This is what it looks like in use:
As you can see your bodily positions are the same as they would be in real life, and you are pumping this thing in and out. It is also great for stamina training, as many men cum more easily on doggy-style than other sex positions. As you can see in the second picture, the guy is using a mat, you can also buy this from fleshlight, but any decent mat will do.
Buy The Top Dog at the Fleshlight site
If you're into the missionary position (and who isn't), then this mount is your baby. You lie on top, and penetrate it in and out, in and out (making me feel horny already). It's very comfortable, and the actual direction of your Fleshlight is surprisingly accurate.
You can see how you do the missionary position with this mount in this picture:
Also good for stamina training, as well as tricep training actually (there are actually some body-builders who use this for 'dual' purpose we could say). And if you want something more gentle and want to 'take it slower', then it's the best mount to use. In fact I would recommend the 'on a mission' mount as your first choice if you're new to the whole thing.
Buy The On A Mission Mount at the Fleshlight site
Double Dog Dare Fleshlight Mount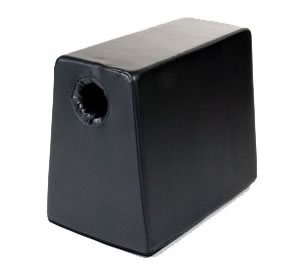 I would recommend the 'Double Dog Dare' mount for more intermediate to experienced Fleshlight users. It allows you to mount two different fleshlight toys into it, which gives you the experience of double penetration. For instance you could use both the Lady (the 'vagina') orifice as well as the butt orifice, and feel like you're giving it to that babe in both holes. It's very kinky and hot, but requires you to have two or more fleshlight toys to use it.
The 'Double Dog Dare' is also good for stamina training purposes. Believe me if you can last giving it to a babe in two holes than you can last in virtually any situation.
Buy The Double Dog Dare At Fleshlight
Two Play Fleshlight Mount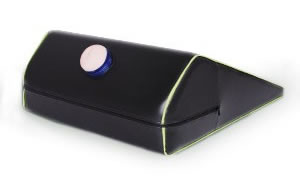 The Two Play Fleshlight Mount is designed for guys who have a sex partner and are open about using a Fleshlight. It gives you the best of both worlds: the ability to have sex, as well as use the Fleshlight as a sex toy with your partner.
I would recommend the Two Play for more intermediate or experienced Fleshlight users, as the more you use the Fleshlight the more comfortable you are talking about it with your partner, and incorporating it into your sex life. Some guys like to 'do' the Fleshlight and then their partner and back and forth, as if they were having a threesome, and others like to do the Fleshlight and then put it in their partner's mouth for changing feelings and sensations (and also if you want sex but your partner doesn't feel like it). Another way to use it is to put your partner on top and have her open her legs and have the fleshlight mounted underneath. If your partner isn't in to threesomes (or you don't want to add that element into your sex life), it's a great alternative to recreating the same sensations of having sex with two women at the same time (although you're only really doing it with one).
Buy The Two Play Mount from Fleshlight
Storing Your Mount
Some guys like to keep their Mounts secret. The best way to store your hands free Fleshlight Mount is in unsuspecting furniture like an ottoman. But the top shelf also works fine. However to many people unfamiliar with the product (i.e. most people) it doesn't look like anything in particular, and you could say it's just a stool or piece of random furniture. Just remember to wipe your mount clean before use if you're hiding it away.