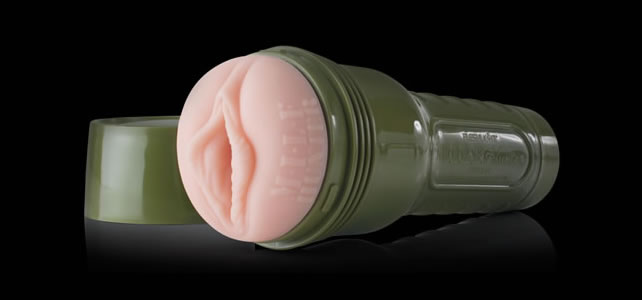 Cost: $79.95 – Buy Now (if you provide your email address you get 20% off, and 1 week free access to MILF Hunter).
I'm on a sexual safari. I preyed upon the Fleshlight Girls and stalked people at Interactive Life Forms (the company behind the Fleshlight, and just kidding about the stalking). But to really get my rocks off I'm in need of a more mature and experienced kind of prey. Yes, I am a MILF Hunter.
The MILF Hunter is a new product in the Fleshlight line of Products (but is it considered a Fleshlight Girl? No.) What I got when I finally made my kill was a cameo green case (unique to this product alone), and a beautiful insert with "MILF HUNTER" stamped into the orifice. The texture is quite interesting. Don't let the term "MILF" mislead you, this texture isn't a loose old pussy, it's just right!
This Fleshlight came about as a promotional deal (by the time you read this article, I am not sure if the offer will still be around) between Fleshlight makers Interactive Life Forms and Reality Kings, the owners of MILF Hunter website.
MILF Hunter Texture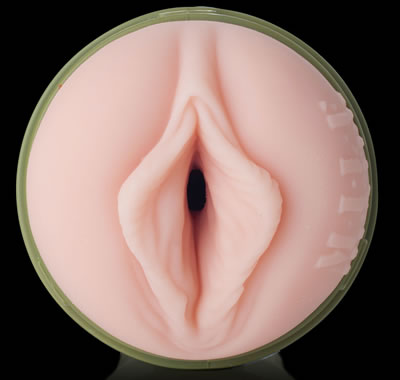 The texture starts off with a smooth, somewhat loose canal that will give way to some oval-shaped ringes facing side ways, then unto a super ribbed like texture which strokes the mid cock, depending on your length. For an average guy (6 inches) your sweet spot will come when you thrust through the inverted-cervix looking thing (kinda like a lotus texture).
Your cock will be rubbed and caressed by the super ribbed Fleshlight texture while your penis head enjoys plopping in and out of the lotus texture, which sucks you in and feels like you're popping out of a tight butt hole when you pull out. This new Fleshlight has readily became my defacto favorite. The Fleshlight makers have toyed around with various different textures and combinations of textures, but this one I think they hit just right. If you're a long dick guy (lucky you?), the some what loose entrance and ribbed texture at the end of the MILF Hunter insert will be a pleasent and comfortable experience. The Texture is easier to clean than some of the other textured inserts, but be sure to rinse well after each use just in case. Realism in this texture is so-so, having had sex with mature women before I can tell you they aren't like that in the inside, no woman is.
If you're looking for TRUE mature-woman realism (with the looseness and smoothness) go with an Original Pink Lady, which should satisfy more well hung guys too. But from what I noticed, the thicker a guy is the more he will enjoy a texture insert, as pressure is greater when thrusting in and out. This is a good kinky edition to any Fleshlight fan's collection. I would recommend it to new users also, as a good introduction to the variety and multi layered textures that ILF offers. As always, take care of your Fleshlight and it will last a life time.
Happy Fleshlighting everyone and enjoy your sex life better with the Fleshlight!
Check out the MILF Hunter here.
Buy Now for $79.95 (if you provide your email you get 20% off, and you get 1 week free access to MILF Hunter).