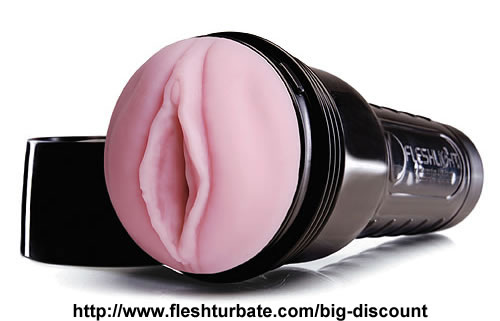 The Fleshlight is the best selling male sex toy in the world with around 3 million Fleshlights sold. Even though it is so popular, some people still ask us what the heck we're talking about when we tell them about the Fleshlight. We reply that the Fleshlight is simply a male sex toy made with a unique and patented material called real feel super skin.
Millions of men are open to the notion of owning and using a Fleshlight. Even their girlfriends and spouses are open to it for a variety of reasons. Some of the reasons the Fleshlight is accepted more than other male sex toys is because of its quality and unique texture.
Some people may think the Fleshlight is simply the male version of a vibrator. While that might be true for some people, others might not be as open to the idea of a male owning a sex toy. In fact, the Fleshlight has many uses besides being just a sex toy. It can help train sexual stamina, cure death grip syndrome, semen collection and a tool to help people who aren't getting enough sex to get by without losing their sanity.
The Fleshlight is also used a gag gift sometimes. When a guy gets the Fleshlight as a gift he sometimes acts like he doesn't want to use it – but in reality he can't wait to try it!
The Fleshlight was invented in 1995 by a man called Steve Shubin, an ex-cop who put an investment of over $750'000 into developing a realistic feeling sex toy material. The research and development that went into making the Fleshlight's unique texture started in 1993. 2 years later the Fleshlight went into production, and Interactive Life Forms began selling them like hot cakes.
The first Fleshlights produced actually came in a wide assortment of colors. Currently the Fleshlight only comes in two colors (unless something special is happening): Clear and Pink. The cases for the Fleshlight come in Black, Blue, Clear, Grey, White (Fleshlight Girls only) and Gold (Stanima Training Unit only).
The Fleshlight comes in a variety of orifices and texture. Orifices include: Lady, Butt, Mouth, non-descript, and there used to be a mini maid orifice but that was dropped due to lack of sales. There is also several textures (8 to be exact) that the Fleshlight can be made with. Some textures are designed for intensity while others are made for realism.
Here's a Fleshlight demonstration video: