People often want to know what the most realistic Fleshlight textures are, and what they feel like. Even though what feels 'real' to one person may seem 'fake' to another, Fleshlight have spent a number of years researching and tweaking some of their Fleshlight textures to create the maximum amount of realism you can find in a sex toy product.
There are of course three ways to have sexual relations with someone – through the vagina, anally or by getting a blowjob (if there are others please let me know). So Fleshlight have worked hard (no pun intended here) internally and through feedback from Fleshlight users around the world to recreate the feelings you would have through vaginal and anal intercourse, as well as the sensations you would receive if you were getting a blowjob.
As you may already know, the orifices on offer already recreate the realistic look of either a mouth, a vagina or a butt:

So the next step, once you move through the realistic orifice, is to get the realistic feeling that going through that orifice in real life would provide.
Vaginal Intercourse Texture
When the Fleshlight Girls came out, the company wanted to recreate the experience of having sex with a pornstar. Because the Fleshlight Girls have been molded from famous pussies, they also need to come with a texture that feels like your penis going into a vagina. So they created the now famous Lotus texture specially for use with the Fleshlight Girls.

The Lotus texture has a very tight but smooth entry point, much like a tight vagina that's hot for you. Then there's an inverted node and four chambers of fun once you get past that. It is probably the most realistic vaginal intercourse texture they've come out with yet.
Anal Sex Texture

So now we move on to a texture that gives you the pleasures of anal sex, something many men fantasize about but don't get a chance to have. But with this texture you'll be closer to getting it than real life and it's available whenever you need it:

The Fleshlight anal texture is known as the Forbidden Texture, since it is usually forbidden to go there. As you can see the entry point is small, tight and narrow like the entry to the anus usually is. Which makes it all the more worthwhile to get through it. When you do you hit very intense little threads that are very closely placed together. Then you get to the more wavy passage, which remains very tight throughout in waves. I've never had anal sex before (unfortunately) but using this texture certainly makes me want to try.
Blowjob Texture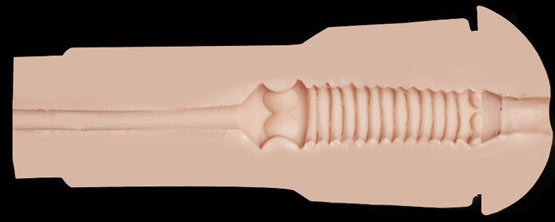 The blowjob texture is known as the Swallow Texture for obvious reasons. Naturally the orifice is the mouth of one of the Fleshlight Girls you'll choose to go with this sleeve, and the swallow texture recreates the rich oral sucking pleasure you'd get when having oral sex. It begins quite light and moves into a canal of ribbs as if your penis moved to the throat. Finally you reach a very tight canal at the back of the mouth, ahem, texture.
When Purchasing
When you go to the Fleshlight Girls section on the purchase site, you will be able to choose these different realistic textures and their corresponding orifices on any of the more recent Fleshlight Girls available.