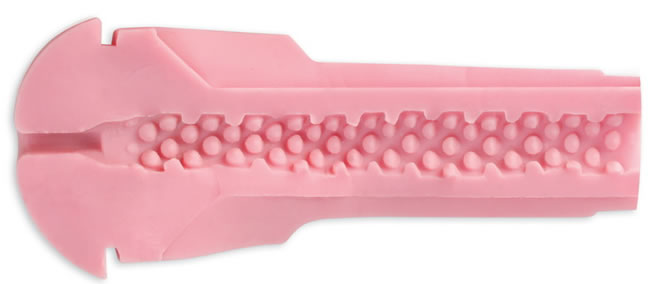 My penis is hard and ready to go. I got her all wet and warm. If I was expecting sex with a regular vagina I would not be as hard and ready as I am now. So I get ready for what's to come. I slowly slip my manhood into her inviting lips. Upon entry the head of my penis brushes against some bumps and I almost lose my breath with excitement. I keep pushing in and I keep feeling those little knobby bumps caressing my cock like a thousand little fingers teasing me to push some more. This is the Speed Bump.
It's one of the three original Fleshlight textures that was released after the Original Fleshlight Textures (way back in the 90s!). The SpeedBump still continues to sell well enough to stay in the line up of products. This is a texture that offers intensity over realism. I would recommend manually using this Fleshlight texture as opposed to hands free. You can control the motion and twist the texture around your cock so much easier this way, and you'll get the full effect and pleasure the SpeedBump offers.
As the name implies, there are dozens of little bumps about 2 centimeters big and spaced just barely apart. What happens when you hit a speed bump? You are supposed to slow down, and that's what I recommend you do with this one. Relax and pump slowly at first to get the full effect and feeling of this awesome Fleshlight Texture. A Fleshlight Speed Bump is much better than a real speed bump, believe me. While you can start off going slow in this road to pleasure, it is not illegal to go faster and hit those bumps at full throttle! Be warned though, fast thrusting can lead to very intense pleasure and premature orgasms, or if you can handle it long enough your cock might get sore after a while.
I would recommend getting the Speed Bump as an introduction to intense Fleshlights, throwing out realism for sheer pleasure. Lube tends to last longer in the speed bump, as with most textured inserts, but this texture in particular has lots of crevices and spaces to keep lube in the Fleshlight over the course of your use of it.
To turn up the notch of intensity even more I recommend using more suction by twisting the endcap tight or almost completely on, leaving it somewhat unscrewed so some air can be let out and in. This causes the speed bumps to brush back and forth on your in and out strokes due to air-pressure and suction. When you are finishing up your orgasm causes your dick to pulsate and that effect actually contracts the speed bump in such a way that it feels alive and it gives you a little massage while cumming.
The speed bump is a simple yet practical Fleshlight texture that will have you cumming back for more!