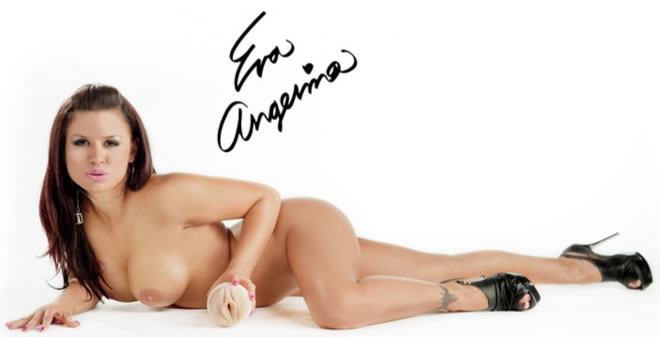 Eva Angelina was born in 1985, and began her porn career at the age of 18. Since then she has become a very popular porn actress and has won many porn awards, the top being the AVN Best Actress Award in 2008.
As a result of Eva's uber-brunette sexiness and popularity, she was given the honor of becoming a Fleshlight Girl, and the Eva Angelina Fleshlight is now one of the most popular Fleshlight Girl Models available. Thousands of her fans have made love to her using the Eva Angelina Fleshlight, which comes much cheaper than paying to have sex with her (which I'm sure costs thousands of dollars!).
Eva Angelina Fleshlight Orifice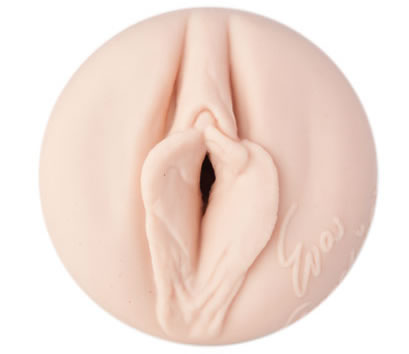 The Eva Angelina Fleshlight orifice is one of the most distinctive, simply because Eva Angelina has an interesting pussy. As you can see from the above picture it has several skin layers and a sexy little opening in the middle waiting for some horny penis to enter it. It's a dull pink color, and even has Eva's signature on it, just so that you don't forget in your masturbating stupor who you are masturbating to (btw watching some Eva Angelina porn while fleshturbating to her is an added bonus and makes it all the more real).
Eva Angelina Fleshlight Textures
You can choose between the Lotus Texture, and the .69 Caliber texture
Lotus Texture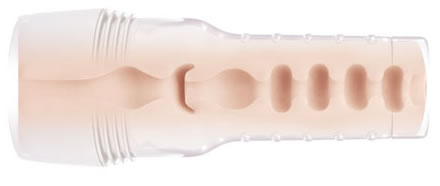 .69 Caliber Texture
The .69 Caliber Texture is Eva Angelina's Signature texture, and is based on her sexy Soldier photo shoot. As you can see it's a bullet texture (hence it's name) which has wider and narrower points throughout the inner canal for added effect.
If you buy both textures together, you get a $19.95 discount through this link (just select both textures on that page to get the discount).
Pearl Sleeve Case
For an extra $20.00 you can also buy a Pearl Sleeve case which will house your Eva Angelina Fleshlight, although any sleeve case will work.
Eva Angelina Video
Here you get to see the pornstar herself talking about her own Fleshlight:
Eva Angelina Fleshlight Buy Now Link