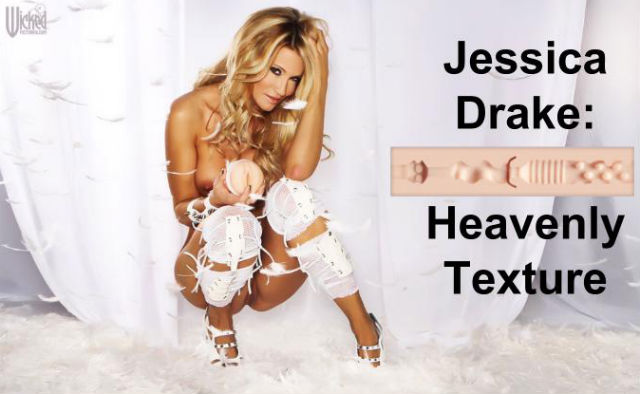 Review by cumon
Texture Details
The Heavenly texture by Fleshlight is Jessica Drake's signature texture. Jessica Drake's labia on the Heavenly texture is an un-matched work of art for Fleshlight, the way her vagina opens to invite your cock into her is enough to get your cock to start tingling. The texture starts off with a semi tight opening with one row of oblong flat top bumps; these bumps are found in the swallow texture as "teeth." Shortly after the teeth is the ultra-tight passage which transitions to the forbidden "wave" texture that is about twice the diameter of the ultra-tight section. Next is the Lotus Node which is leads to a ribbed section which is even wider yet as the forbidden, finally ending in a section of beads.
Stimulation
Upon penetration the cock head is lightly stimulated by the teeth, you won't directly feel it but it they get things going. Immediately you will feel the ultra-tight texture surround your head in a warm tight embrace that will send your senses reeling. Penetrating further more your head will have a moment of relief as things loosen up in the wave section, but your shaft is now being messaged by the teeth and the ultra-tight texture. While in the wave section you will feel small amounts of pressure to each side of the waves where the material is at its peak. Finally you reach the pure highlight of the texture, the Lotus node! For me personally this is about as far as I get. This Lotus node gives Heavenly its incredible feeling of penetration. While your shaft will be engulfed by all the tight passage your head is "breaking through" the lotus node unto a larger ribbed chamber. This is very pointed stimulation that is guaranteed to drive you wild; the feeling brings me to my knees.

Overview
Let Heavenly show you what having sex with a virgin is really like. The tight combination of textures is a sure fire way to enjoy the virgin experience. The Combo given in Heavenly is easy enough to have a good long edging session or enjoy an action packed quick flight. I find it extremely easy to edge, which is something I struggle at in other textures.
Notice
Cleaning is a little more involved with this being a tight texture, with this drying time is also extended.
If you're any shorter than 6in long you may not reach the lotus node, if this is a situation you find yourself in I would recommend the Forbidden texture. This will provide a similar feel without the lotus node.
Reviewer Details
Total Fleshlight experience with approximately 13 textures.
The size of my cock is 6in long with an average girth.
My uses of my sleeves are both fucking and stroking.
Porn is used as a stimulant for every session.
I use a high end water base lube for every flight.