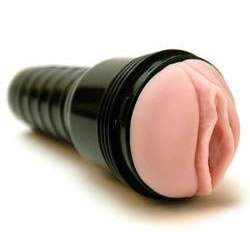 The Pink Lady Fleshlight is one of the original Fleshlight colours and orifices made available by Interactive Life Forms, starting in 1995. While the line up of the very first Fleshlights all came in the Original Lady texture, ILF decided to drop several colour designs from the line up due to poor sales. The Pink Lady Fleshlight, however has stayed on as the flagship product that ILF sells.
From sales figures that ILF has released, 90% of new customers buy lube and the Original Pink Lady. This Fleshlight receives acclaim and praise as a good first buy, but customers who look into what ILF sells tend to find a tighter or different texture would suit them better. For example, a super tight Fleshlight is better for men with less than average penis girth. All textured inserts are tighter than the Original Lady. If you want the classic Fleshlight that started it all, go with a Pink Lady Fleshlight. The Original Pink Lady Fleshlight is currently sold as the "perfect first time buy" and you get a free bottle of Fleshlube (Fleshlight's own brand of water based sexual lubricant).
Personally, I'd have to somewhat disagree that a Original Fleshlight is the perfect first time choice. You'll want to do some research into which Fleshlight suits you best, but most customers are looking for vaginal realism and aren't looking into a Butt / Mouth orifice just yet until they try the Lady. Another thing to consider is a "Pink Lady" Fleshlight does not have to refer the Original Fleshlight, which actually means the "Original Texture" (the loosest canal dimension). The word Pink Lady can refer to any Fleshlight with a Vaginal orifice and pink color. Customers who are interested in realism more than seeing their cock go in and out of the Fleshlight (like with the Ice/Clear models). For added realism, you will want to have a pink lady Fleshlight in ultra tight, Lotus, or WonderWave texture. If your penis girth (overall thickness) is bigger than average, you will want to consider an Original Fleshlight to accommodate your size comfortably, other Fleshlight canals and textures might be too tight for you, and definitely don't get the Sex in the Cans as they tend to have a tighter canal dimension by default.
When it comes to choosing a Pink Lady Fleshlight, you do have some choices. To review, the Pink Lady can come in Ultra Tight (a pencil thin dimension), Super Tight (mimics a young lady with a tight vagina) and Ultra Tight (virginal tightness), and a plethora of textures (for added pleasure) or simply the best selling Original model (comes with free lube and feels like a 30-40 something woman with sexual experience). Everyone has their own preferences so you will want to ask other Fleshlight users and look into what they think before you decide which one you want.