The Fleshlight Girls series of Fleshlights are made from moldings taken from various famous porn stars.
Currently there are 8 Fleshlight Girls orifices: Raven Riley, Lia 19, Tera Patrick, Teagan Presley, Jesse Jane, Eva Angelina, Lupe Fuentes and Riley Steel.
The Line up of the Fleshlight girls has changed, there used to be a Sandee WestGate, Vanilla Deville, Puma Swede and Kat Young orfice but those were discontinued due to lack of sales.
The only two original Fleshlight girls are Lia 19 and Raven Riley. Raven Riley has been voted the best Fleshlight Girl insert by fans and remains a popular choise. Lia 19 is currently the only Fleshlight Girl who will occasionally show up on the Fleshlight forums and speak to fans, Sandee WestGate used to post on the forum too until her Fleshlight was discontinued. What a bummer!
All Fleshlight Girls orifices are unique and feel different but Raven Riley's insert in particular will hug your penis on the upstroke, making it feel more pleasurable and realistic.
You have a nice variety to choose from here. It's like being a kid in a candy shop, well more like an adult in a sexual candy shop but you get the idea!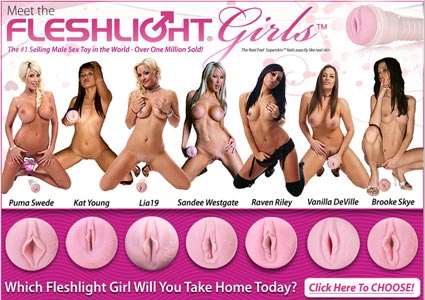 Which orifice appeals to you the most? Usually sex toys made from an actual mold of a porn star are quite expensive and don't feel like the real thing. The FleshLight Girls on the other hand are sex toys made with real feel superskin and only cost a fraction of what other mold-based sex toys do.
The Fleshlight Girl line up of Fleshlights went over very well with Fleshlight fans. At first Fleshlight Girl Fleshlights only came in the WonderWave texture, but now they all come in the Lotus texture which is one of the more realistic feeling textures ILF has made. The Tera Patrick Fleshlight comes with a choice of the Lotus or twista texture, and also the Luepe Fuentes can come in either the Lotus or Mini Lotus texture.
It is currently unknown if Interactive Life Forms will be coming out with new Fleshlight Girls or will discontinue current products, but ILF is very open to new ideas and customer feedback, so we wouldn't be surprised to see some new products coming out relating to the Fleshlight Girls line up of Fleshlight.
The FleshLight Girls Fleshlight case is unique to the FLG line of products. If you order a Fleshlight Girl insert with a case you will get a shiny-white case.
Fleshlight Girls Showcase Video